A Multidisciplinary Art Exhibition by Steven Let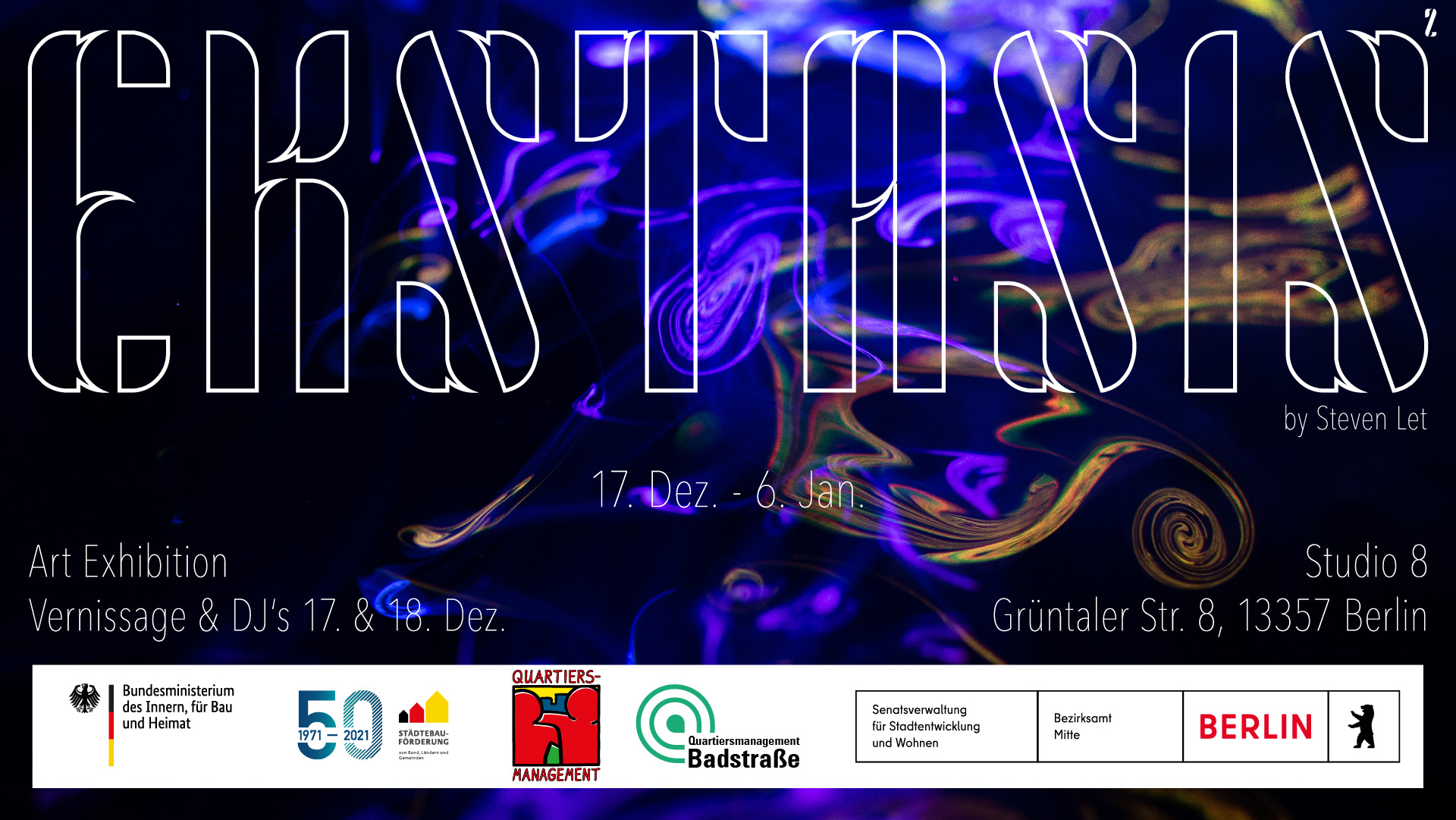 Entry free | 2G + Test | 17.12. 18:00 Vernissage | 18.12. 19:00 Vernissage | 17.12. - 06.01. Window Exhibition
—— German  below ——
What is it about art and aesthetics that fascinates us so much? Everyone is attracted to various designs in their very own way. Artistic representations engage us in a way that makes us feel as if we are immersed in it. Although difficult to describe, art causes a feeling of forgetting space and time, that eventually leads to ecstasy - the melting of one's personality. This is exactly the feeling Steven Let tries to capture in his project "Ekstasis". The light installation tries to not only trigger the state of being "out of oneself", but to bring it to life. Inspired by the fleeting appearances that already guided Monet and brought Impressionism to life, these same appearances are to be permanently represented. Prisms, light and water create an immersive experience that captivates the viewer. The rainbow effect depicted represents an otherwise ephemeral phenomenon of nature that is immortalized by the artwork. At a time when the issue is more important than ever, this creates a lasting sign of modern diversity, tolerance and diversity.
Steven Let began his studies about light 2 years ago, exploring and using a wide variety of disciplines. The resulting Ekstasis project consists of two parts. In the photographs of the first part, he incorporates set design, installation as well as light art to create artistic representations that present itself in a unique manner. The second part consists of an elaborately designed light installation, which can be viewed at Studio 8 from December 17th till January 6th. Even before starting the Ekstasis project, the artist spent a lot of time working with light. Along with befriended artists, he founded the art and music collective "Sarasvati" in 2016, which serves not only as a stage for his work, but also as a playground for installation art, light and stage design.
The project is funded by the Federal Republic of Germany and the State of Berlin as part of the urban development program "Social Cohesion - Shaping Neighborhood Life Together". Sponsors in detail: Federal Ministry of the Interior, for Construction and Home Affairs, Urban Development Promotion, Neighborhood Management Berlin, Neighborhood Management Badstraße, Senate Department for Urban Development and Housing, District of Berlin Mitte.
—— German  ——

Was fasziniert uns eigentlich so an Kunst und Ästhetik? Jeder fühlt sich auf seine eigene Art von diversen Gestaltungen angezogen. Künstlerische Darstellungen berühren uns auf eine Weise, dass man fast schon meint, in die Werke einzutauchen. Es entsteht ein schwer zu beschreibendes Gefühl des Vergessens von Raum und Zeit, bis hin zur Ekstase - dem Zerschmelzen der eigenen Persönlichkeit. Genau dieses Empfinden versucht Steven Let in seinem Projekt "Ekstasis" einzufangen. Die Lichtinstallation versucht den Zustand des "außer sich seins" nicht nur auszulösen, sondern zu verlebendigen. Inspiriert von flüchtigen Erscheinungen, die bereits Monet leiteten und den Impressionismus ins Leben riefen, sollen ebendiese dauerhaft dargestellt werden. So erzeugen Prismen, Licht und Wasser ein immersives Erlebnis, das die Betrachtenden in seinen Bann zieht. Der dargestellte Regenbogeneffekt steht dabei für eine vergängliche Erscheinung der Natur, die durch das Kunstwerk verewigt wird. In einer Zeit, in der dem Thema mehr Bedeutung zukommt denn je, wird so ein anhaltendes Zeichen moderner Vielfalt, Toleranz und Diversität geschaffen.
Steven Let begann vor 2 Jahren mit seinen Lichtstudien, wobei er sich mit verschiedensten Disziplinen befasst und sich dieser bedient. Das dadurch entstandene Ekstasis Projekt besteht aus zwei Teilen. In die Fotografien des ersten Teils lässt er Setdesign, Installations- und Lichtkunst einfließen, um künstlerische Darstellungen zu erzeugen, die in ihrem Wesen einzigartig sind. Der zweite Teil besteht aus einer aufwendig konzipierten Lichtinstallation, welche sich vom 17. Dezember bis zum 6. Januar im Studio 8 betrachten lässt. Bereits vor Beginn des Ekstasis Projekts verbrachte der Künstler viel Zeit mit der Inszenierung von Licht. Gemeinsam mit befreundeten Künstlern gründete er im Jahr 2016 das Kunst- und Musikkollektiv "Sarasvati", welches ihm nicht nur Bühne, sondern auch Spielplatz für Installationskunst, Licht- und Bühnengestaltung ist.
Das Projekt wird gefördert durch die Bundesrepublik Deutschland und das Land Berlin im Rahmen des Städtebauförderprogramms "Sozialer Zusammenhalt - Zusammenleben im Quartier gemeinsam gestalten". Förderer im Detail: Bundesministerium des Inneren, für Bau und Heimat, Städtebauförderung, Quartiersmanagement Berlin, Quartiersmanagement Badstraße, Senatsverwaltung für Stadtentwicklung und Wohnen, Bezirk Berlin Mitte.